Lentil and Black Bean Meal Prep:
Turn BOTH pots on to a medium temp and add enough oil to saute garlic. Add about 5 cloves to each pot and saute.
Add about half onions to each pot and all jalapenos to the pot for the black beans and saute.
Add a little more than half the cilantro to the pot with the black beans, then add your kale a nice big bunch to each pot (I just rip apart the kale and throw it in) saute everything
Add your black beans and add your lentils, then add 6 cups of water to the black beans and 6 cups of water to the lentils raise the heat on both and let them both come to a boil.
Once they come to a boil lower the heat to a simmer and cover both pots.
Set a 15min timer. Stir the beans and set and additional 45 minute timer just for the beans. The lentils however should be soft but not mushy and ready to eat or store for up to 5 days in the fridge.
After 45 stir your beans again if they are not yet soft I add an additional 30 minutes and start checking them every 30 minutes until they are soft. (The longer your beans cook the less gassy they are if you're concerned with bloat.) You can also eat your beans right away or store for up to 5 days in the fridge
Are you ready to multi-task and meal prep. This recipe is more about estimates. I never make it exactly the same, add more or less of everything based on what flavors you love and hate. The water to bean/lentil ratio is really all that's important.
You will need 2 pots with a lid.
Avocado Oil (I used olive oil in the video because I ran out of Avocado oil.)
1 cup of chopped cilantro
1 yellow onion sliced
1/2 cup chopped jalapeno
Lots of Kale!!!
about 10 garlic cloves
2 cups of Black Beans
2 cups of Lentils
Salt to taste
Both are excellent sources of protein and such a staple in many of my meals. I do have a preference for lentils as a protein source.

Watermelon, Coconut Water, Post Workout Smoothie:
8 oz Coconut Water
1lb frozen watermelon cut in chunks
lime to taste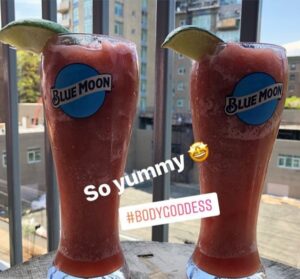 Pour coconut water into blender and half of watermelon. Blend until smooth
add remaining water melon and blend
Squeeze lime to taste and enjoy.