I posted this last summer and since it's all to common for summer to come and fitness regimes to disappear I felt it a great time to repost. Plus this is exactly where I was a year ago today in my own fitness journey.
It's happened again like every summer. I suddenly have no structure and I end up all over the place with my health and fitness. I am the type of person that loves structure and loves to be organized and on a schedule #LibraProblems I guess, but I swore when the kids got out of school this summer things would be different. So I keep saying I'm going to get back on track and I just beat myself up about not doing it. I mean come on nice weather means naturally your gonna be more active and in a better mood plus you show more skin, hello motivation and hot weather helps suppress your appetite. But later bedtime, sleeping past my favorite news anchors, no morning routine, binge watching all the marvel series on netflix, soooo many humid days, oh and chocolate peanut butter ice cream has definitely got the best of me this summer.
So I had to focus on the things that were different for me in the summer and what I can do about it, and you know what it's working and I'm feeling better.
The A/C was broken in my apartment and I hate working out when I'm hot before I even start moving. It's been fixed 2 weeks now so I turn on the A/C in the living room as soon as I wake up so it's nice and cool and I workout in the morning before it's really hot outside.
I have a very consistent morning routine during the school year. So even though I'm staying up later and sleeping in I gave myself a time to wake up ever morning no matter what. I like to sleep 7hrs a night so if I go to bed early I wake up earlier but I make sure to not sleep later.
Having an alarm in the summer also prevents me from being groggy from over sleeping and makes me more productive.
Now that I'm on track with waking up I stick to my normal morning routine. Your routine will be different than mine but my mornings consist of a glass of water as soon as I get up a 10-15min yoga flow plus 20-30 pushups followed by a cup of green tea while I watch the news. Then I workout and have a healthy breakfast/post workout meal. So now no matter what else happens during the day I'm at least starting my day off on track.
This is what has helped me this summer however there are a few more helpful tips I'd like to mention that may push you through the summer fitness slump.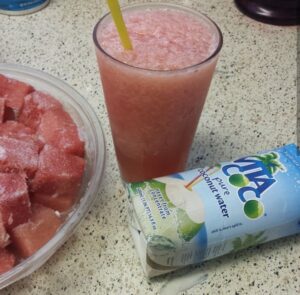 I prefer a structured fitness routine but you may need something less structured to get you moving this summer so try a fun class or new activity. Use groupon it has tons of classes you can try out, yoga, kickboxing, even try a summer hike to a lake to cool off after, or kyacking.
If your a mom take advantage of the kids sleeping in. This is some extra me time to squeeze in a morning workout. Try HIIT it's short and aside from burning fat and giving your metabolism a boost you will feel great after.
Don't over book yourself, every weekend doesn't have to be filled with summer activities and get togethers. Sometimes you have to say no so you can make time for your workout and cook a healthy meal or simply just to relax and meditate.
If you are always on the go this summer stock up with great on the go snacks. Protein bars(watch for sugar and artificial ingredients), raw nuts (walnuts, pecans and almonds are my favorite and packed with nutrients.), chopped carrots, red pepper, cucumbers, snap peas, low sugar fruits like green apples and berries, jerky for my meat eaters or roll up turkey with cheese and lettuce in the middle. Restock these snacks every week so you never run out.
Drink LOTs of water!!!
It's ok to be lazy and simply enjoy the summer, I'm all for that but that doesn't mean eating like crap, gaining a bunch of weight and stop caring for yourself. Yes I'm gonna have some pizza nights and indulge in more than a few ice creams but I'm still eating good 80% of the time. I mean the summer is filled with great healthy eating options.
Summer is to be enjoyed! Don't stress out if you don't have the perfect bikini body or your routine isn't perfect.
Follow the Sun and Follow the Fun, just throw in some workouts and don't form any bad habits. Oh and drink lots of water in the summer.
Hope this helps you stay on track or get back on track this summer!!!