Lentil "Ground Beef" Tacos (Vegan):
Heat a small panto a medium temp and add about 3tbsp of lentils. Add about a tbsp of taco seasoning and cook until the lentils dry up and start to crumble like ground beef. Then remove from heat.
Warm 3 tortillas
Spread hummus on each tortilla and add your lentils.
Add all your toppings, lettuce, tomato, sliced avocado and your choice hot sauce. Then squeeze some lime on each taco and enjoy.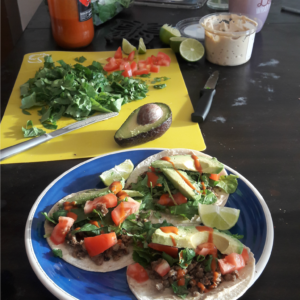 3 tbsp cooked lentils
1 tbsp of taco seasoning
3 corn tortillas
1 tbsp hummus (any flavor, I used jalapeno)
1/2 chopped tomatoes
1/2 cup of your choice of lettuce (I used baby kale and spinach)
1/2 of an avocado sliced
Lime squeezed on top
Nopales "Cactus" Beet Tostadas (Vegan):
1 Nopale chopped
1/2 small yellow onion
2 beet tortillas
1 tbsp hummus (any flavor, I used jalapeno)
2 sliced red radishes
hand full of baby kale
Lime squeezed on top
If you have a fresh nopale you want to wear gloves to protect your hands from the cactus hairs and lay it flat while cutting off the spines (thorns) with a knife then cut all around the rim until you've removed all the thorns.
Chop up your nopale and onion.
Heat the pan for your tostadas on a medium heat and cook beet tortillas for 5-6min on each side until crispy.
In another pan add oil and brown your onions.
Add the cactus to your onions. They will have a stickiness to them that evaporates as they cook and go from bright green to a dark green when finished.
Spread hummus on each tostadas and add your nopales.
Add radishes and kale then squeeze some lime and enjoy.